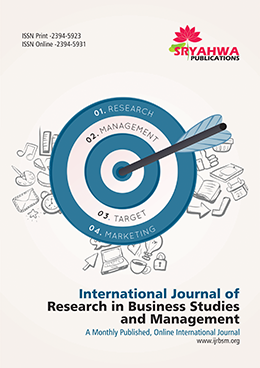 Welcome to IJRBSM
The International Journal of Research in Business Studies and Management (IJRBSM) is a convenient plat form for contributions in research and reviews in the fields of Management and Business Studies. It aims at providing a medium of source where by both the teacher and the taught come into direct contact with each other for exchange of their unique and novel ideas leading to higher level of teaching and learning. It invites articles, papers, case studies, survey reports, technical reports, speeches, interviews and all other contributions from the authors across the globe.
IJRBSM has a mission to publish the papers of the highest quality with innovative ideas on all the subjects relating to emerging trends in both Business Studies and Management.
IJRBSM expects all the articles or papers to be original which are not published previously or submitted to any journal for the consideration for publication. All the articles or papers must adhere to the style and the ethics of the IJRBSM. All the articles or papers will be thoroughly reviewed and edited by expert reviewers and language editors before consideration for publication.
Recently Published Articles
Partnership Business as an Option for Enhancing Economic Development in Nigeria

View | Download |

1-6

Analysis of Ethiopian Civil Service Reform

View | Download |

7-11

The Environmental and Socio-Economic Impacts of Mining on Local Livelihoods in Sierra Leone: A Case Study of Tonkolili District

View | Download |

12-18

Perceptions on Change: a Transformation Case Study

View | Download |

19-36

Analysis Factors Satisfaction Work Employees at the office of the Management Apartment Casablanca East to Residences

View | Download |

37-44